Revolution Slider Error: Slider with alias "slider-foodsupply-kids" not found.
Maybe you mean: 'agro-4r-place' or 'agro-4r-rate' or 'agro-4r-source' or 'agro-4r-time' or 'agro-fertilizers-compound' or 'agro-fertilizers-liquid'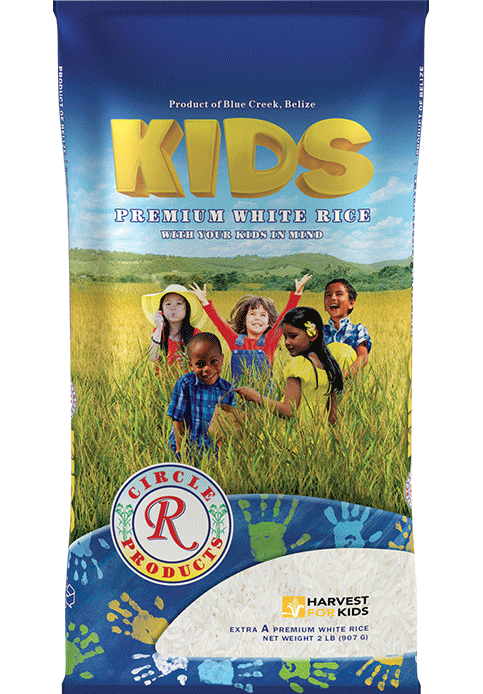 Every bag matters,
because every kid matters.
Each bag of KIDS Rice that you buy helps fund organizations and food programs that are dedicated to raising Belize's next generation. Help make a difference.
Premium White Promise. Premium white rice is cleaned of all the extra bits so that you can enjoy a great looking and great tasting meal with your friends or family.
Socially Responsible Promise. Part of the proceeds of each bag sold go towards giving less fortunate children the chance attend summer camp. The more rice that is sold, the more kids can have fun! Check it out for your self at BelizeCampingExperience.com
Extra Clean Promise. Extra clean means the rice has been filtered of everything but the rice. The package is sealed so you can open the bag, cook the rice, and serve it without any filtering required.
High Quality Promise. Circle R Products values hard work and high quality for all its products. Each Kids bag is triple-checked to ensure that only the best product reaches your table.
Healthy Promise. All Circle R rice is http://www.cheapnfljerseys4.com healthy and natural, so your family can grow strong with each serving.
Revolution Slider Error: Slider with alias "foodsupply-product-callout-bottom" not found.
Maybe you mean: 'agro-4r-place' or 'agro-4r-rate' or 'agro-4r-source' or 'agro-4r-time' or 'agro-fertilizers-compound' or 'agro-fertilizers-liquid'
Revolution Slider Error: Slider with alias "call2action-foodsupply" not found.
Maybe you mean: 'agro-4r-place' or 'agro-4r-rate' or 'agro-4r-source' or 'agro-4r-time' or 'agro-fertilizers-compound' or 'agro-fertilizers-liquid'